We've teamed up with Allpoint, an ATM network that gives you access to over 55,000 ATM's across the United States, Canada, Mexico, the United Kingdom, Australia and the Caribbean. The ATM's can be found in recognized, destination retailers like Target®, CVS/Pharmacy®, Walgreens®, Kroger®, 7 Eleven®, Winn Dixie®, Hess®, Sunoco®, Costco® and Safeway®. We hope you enjoy the service and look forward to serving all your financial needs. Please use the locator service below to locate an AllPoint Surcharge FREE ATM near you. You can also locate a VISA ATM through VISA ATM Locator.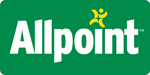 Looking for a depository ATM?
For your convenience, our Bear Claw Coffee (Washtenaw Avenue) location and our Ypsilanti (Michigan Avenue) location both provide ATM access to deposit checks and cash to your University Bank account.
In addition to the ALLPOINT ATM Locations that can be found below, University Bank has three additional locations available to banking customers.
Located on the Liberty St. side of Potbelly's Sandwich Shop
300 S State St.
Ann Arbor, MI 48104
Located in the drive thru at Bear Claw Coffee Co.
2460 Washtenaw Avenue
Ann Arbor, MI 48104
Located in the drive thru at University Bank's Loan Production Office
301 W Michigan Avenue
Ypsilanti, MI 48197
Notice to Cardholders of Member Institutions: If the surcharge screen appears during your Allpoint ATM transaction, press "yes" to accept the surcharge and proceed with your withdrawal. You will not be charged the surcharge or Allpoint will refund your money. Some locations may have more than one ATM, not all of which participate in the Allpoint network. Please make sure to check the ATM you are using for the Allpoint logo to ensure it is the correct one.
Online Banking & Bill Pay
UNIVERSITY BANK AND YOUR LOG-IN CREDENTIALS
Dear University Bank customers: If you are having trouble accessing online internet banking services please review documents below, or call us at 734-741-5858 (during regular business hours). You can e-mail us anytime at information@university-bank.com.
Want to Learn More?
For current rates or to open an account please call the Branch