Why Invest in University Bancorp?
University Bank is focused on profitable growth through niche financial services provided locally, nationally and via the Internet. These niches are Community Banking & Insurance, Credit Unions, Faith-based Lending and Federal Housing Administration & Veterans Administration Lending. Our niche businesses have become important profit drivers and contribute about 95% of our overall revenue.
American Banker newspaper noted that University Bank was the #1, #2 or #3 most profitable publicly traded bank in the entire United States from 2012 to 2017 and again in 2020, based on our return on average equity. Since 2004, our annual revenue has grown from $6.57 million to $136.99 million in 2020. This is an annually compounding internal rate of growth of 20.9%. Over those same 16 years, our return on shareholders' equity has averaged 20.0%. Over the 60 months to 12/31/2020, the annual average return on equity was 33.4%, so we've seen an acceleration as we have gained greater economies of scale as our business has grown. Common Shareholders' equity has grown from $3.0 million in 2004 to $51.6 million this year.
Year Total Revenue
2020 $136,991,511
2019 $69,112,502
2014 $36,419,208
2009 $21,814,793
2004 $6,566,819
This puts University Bancorp in an elite group of public companies with long term growth rates averaging over 20% and returns on equity averaging over 20%.
The credit union industry is gaining market share from all other financial institutions. University Bancorp offers investors one of the few ways to invest in this ongoing growth of the credit union sector. Midwest Loan Services, a division of University Bank, grew by 19.3% per year on average for the past twenty years in the number of mortgage loans subserviced to over $36 billion. Midwest is a business process outsourcer of mortgage services to over 6.8% of the 5,099 credit unions in the U.S. It also serves a growing number of community banks and independent mortgage bankers.
The American Bankers Association, through its Corporation for American Banking subsidiary, has endorsed Midwest to provide residential mortgage subservicing services to member banks and their borrowers nationwide. Midwest is known for friendly, responsive service and industry-leading technology that help lenders retain customers, reduce costs and ensure regulatory and operational compliance. Midwest's mortgage customers have 14x fewer complaints than the industry average according to the Consumer Financial Protection Bureau's complaint database.
UIF, our faith-based lending subsidiary, serves the large number of Muslim, Hindu, Jewish, and Christian customers who have an ethical aversion to paying or receiving interest.
Federal Housing Administration Lending is the fastest growing sector of the residential mortgage business in the U.S., having grown from 3% of all new residential mortgage originations in 2006 to over 20% today. Veterans Administration loans are another mortgage lending niche that offers important and unique benefits to our veterans. Last year we originated $112 million in loans to our nation's veterans.
Key Manager Statement
"We are a leader in our industry with profitable and dynamically growing businesses, well positioned for the future. Our bank has a market capitalization today of only $81 million. Learn more about our story, our track record of successful innovation and what the future holds for us."
Stephen Lange Ranzini
President & CEO
Click to view Bio of Stephen Lange Ranzini
Key Statistics:
Shares Outstanding: 4,765,518
Shares in Free Float: 1,746,762
Click here to view/download the University Bancorp Investor Presentation
Click here to view UNIB Investor Relations Summary QE2 2023
Investor Relations Contact:
Stephen Lange Ranzini,
President & CEO
2015 Washtenaw Avenue,
Ann Arbor, Michigan 48104
Phone: (734) 741-5858 Ext 9226
Fax: (734) 741-5859
CAUTIONARY STATEMENT: This press release contains certain forward-looking statements that involve risks and uncertainties. Forward-looking statements include, but are not limited to, statements concerning future growth in assets and net income, the sustainability of past results, and other expectations and/or goals. Such statements are subject to certain risks and uncertainties which could cause actual results to differ materially from those expressed or implied by such forward-looking statements, including, but not limited to, economic, competitive, governmental and technological factors affecting our operations, markets, products, services, interest rates and fees for services. Readers are cautioned not to place undue reliance on these forward-looking statements, which speak only as of the date of this press release.
Required Regulatory Statement on Risk: The securities of University Bancorp have NO FDIC Insurance and carry RISK OF LOSS: The securities are not insured by the FDIC or the Bank. The securities are subject to investment risks, including the possible loss of the principal amount invested.

University Bank is an FDIC insured, locally owned and locally managed Community Bank primarily serving the Cities of Ann Arbor and Ypsilanti of Washtenaw County, Michigan. The Community Banking operation focuses on local businesses, minorities and non-profit organizations. Other Community Banking specialties include highly competitive deposit products for business owners, residential mortgages, commercial real estate lending and insurance, through its wholly owned subsidiary Ann Arbor Insurance Centre, Inc.
Everyday everyone and their fortune are truly appreciated at University Bank. Ann Arbor based University Bancorp owns 100% of University Bank. In addition to its Community Banking operations, University Bank specializes in mortgage subservicing through the Bank's Houghton-based division, Midwest Loan Services. University Lending Group (ULG), a subsidiary of University Bank, is a full service mortgage bank whose goal is to provide a comprehensive selection of competitively priced loan products. Our products and services are designed to meet your needs. UIF Corporation (UIF) is a majority-owned subsidiary of University Bank (Member FDIC). In business since 2003, our company offers faith-based finance products and services that allow our customers to remain true to their faith. Our goal is simple; to serve the financial needs of the Muslim, Hindu, Jewish, and Christian customers who have an ethical aversion to paying or receiving interest.
History of University Bank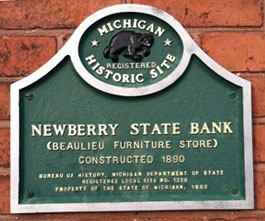 University Bank is owned by University Bancorp and was initially chartered as The Newberry State Bank located in Newberry, Michigan in the Upper Peninsula. While the bank was founded in 1890, a bank holding company owned by Stephen Lange Ranzini and Joseph Ranzini acquired controlling interest in the bank in 1988. Under Stephen Lange Ranzini's leadership as President and CEO of the Bancorp, the bank expanded into Sault Ste. Marie and doubled in size.
In 1994 Newberry State Bank sold its loans, deposits and branches to another bank in the Upper Peninsula. Retaining the Bank charter, Stephen Ranzini changed the name of the charter to University Bank. Stephen Lange Ranzini was interested in relocating the bank charter to Ann Arbor because there was only one other community bank based in Ann Arbor at the time and this is a diverse, vibrant and growing community. A new management team was recruited and the bank opened in Ann Arbor in early 1996. After the initial management team was replaced, Stephen Lange Ranzini took over the direct day-to-day management of the bank in late 1997.
The new University Bank was positioned as a sophisticated community bank with a high degree of personalized, comprehensive, responsive customer service and low fees.
At University Bank customers experience the difference of:
• Local decision making
• Our Customers Receive Personal Service and Attention
• Competitive Pricing
• All Financial Services Products Available
• Low fees